2017-07-25 02:06:02
Posted in: Shoot Read more...

0 comments
---
2017-07-24 20:43:51
via Instagram http://ift.tt/2vC3sWI

Posted in: instagramPortfolioTagged in: Read more...

0 comments
---
2017-07-24 01:59:59
Posted in: Shoot Read more...

0 comments
---
2017-07-23 21:09:59
via Instagram http://ift.tt/2eG8366

Posted in: instagramPortfolioTagged in: Read more...

0 comments
---
2017-07-23 00:39:19
Posted in: Shoot Read more...

0 comments
---
2017-07-22 15:55:12
via Instagram http://ift.tt/2tPKz0p

Posted in: instagramPortfolioTagged in: Read more...

0 comments
---
2017-07-19 22:09:10
Posted in: Shoot Read more...

0 comments
---
2017-07-19 19:29:42
via Instagram http://ift.tt/2vjvq9t

Posted in: instagramPortfolioTagged in: Read more...

0 comments
---
2017-07-18 23:09:50
Posted in: Shoot Read more...

0 comments
---
2017-07-18 21:27:32
via Instagram http://ift.tt/2vyWock

Posted in: instagramPortfolioTagged in: Read more...

0 comments
---
2017-07-16 19:56:53
via Instagram http://ift.tt/2v6FFxL

Posted in: instagramPortfolioTagged in: Read more...

0 comments
---
2017-07-15 21:24:18
via Instagram http://ift.tt/2uvg70k

Posted in: instagramPortfolioTagged in: Read more...

0 comments
---
2017-07-13 21:22:12
via Instagram http://ift.tt/2ueuBkt

Posted in: instagramPortfolioTagged in: Read more...

0 comments
---
2017-07-12 20:51:17
via Instagram http://ift.tt/2sRgeyw

Posted in: instagramPortfolioTagged in: Read more...

0 comments
---
2017-07-11 21:05:03
via Instagram http://ift.tt/2t1iIyF

Posted in: instagramPortfolioTagged in: Read more...

0 comments
---
2017-07-07 21:57:02
via Instagram http://ift.tt/2tqdLxS

Posted in: instagramPortfolioTagged in: Read more...

0 comments
---
2017-07-06 20:33:42
via Instagram http://ift.tt/2tuEfNm

Posted in: instagramPortfolioTagged in: Read more...

0 comments
---
2017-07-05 20:06:54
via Instagram http://ift.tt/2uKVOrC

Posted in: instagramPortfolioTagged in: Read more...

0 comments
---
2017-07-04 19:54:25
via Instagram http://ift.tt/2snhbOW

Posted in: instagramPortfolioTagged in: Read more...

0 comments
---
2017-07-03 19:51:14
via Instagram http://ift.tt/2tFeU5q

Posted in: instagramPortfolioTagged in: Read more...

0 comments
---
2017-07-02 18:27:33
via Instagram http://ift.tt/2svwn0L

Posted in: instagramPortfolioTagged in: Read more...

0 comments
---
2017-07-01 20:06:13
via Instagram http://ift.tt/2tBYhYR

Posted in: instagramPortfolioTagged in: Read more...

0 comments
---
2017-06-30 22:41:51
via Instagram http://ift.tt/2usOS2p

Posted in: instagramPortfolioTagged in: Read more...

0 comments
---
2017-06-29 22:35:19
via Instagram http://ift.tt/2t6e2Er

Posted in: instagramPortfolioTagged in: Read more...

0 comments
---
2017-06-28 21:34:43
via Instagram http://ift.tt/2tZ8880

Posted in: instagramPortfolioTagged in: Read more...

0 comments
---
2017-06-26 22:43:00
via Instagram http://ift.tt/2uafANa

Posted in: instagramPortfolioTagged in: Read more...

0 comments
---
2017-06-25 21:54:07
via Instagram http://ift.tt/2t6Fzb1

Posted in: instagramPortfolioTagged in: Read more...

0 comments
---
2017-06-23 22:53:12
via Instagram http://ift.tt/2tDMLJm

Posted in: instagramPortfolioTagged in: Read more...

0 comments
---
2017-06-22 22:21:22
via Instagram http://ift.tt/2rWFFCG

Posted in: instagramPortfolioTagged in: Read more...

0 comments
---
2017-06-20 21:44:50
via Instagram http://ift.tt/2rScCuT

Posted in: instagramPortfolioTagged in: Read more...

0 comments
---
2017-06-19 15:58:27
via Instagram http://ift.tt/2sigRTW

Posted in: instagramPortfolioTagged in: Read more...

0 comments
---
2017-06-18 14:35:59
via Instagram http://ift.tt/2rERPzL

Posted in: instagramPortfolioTagged in: Read more...

0 comments
---
2017-06-17 15:56:55
via Instagram http://ift.tt/2sDSgdQ

Posted in: instagramPortfolioTagged in: Read more...

0 comments
---
2017-06-16 17:35:04
via Instagram http://ift.tt/2sjp3BV

Posted in: instagramPortfolioTagged in: Read more...

0 comments
---
2017-06-15 16:01:24
via Instagram http://ift.tt/2swbxhn

Posted in: instagramPortfolioTagged in: Read more...

0 comments
---
2017-06-14 12:04:10
via Instagram http://ift.tt/2srBHBT

Posted in: instagramPortfolioTagged in: Read more...

0 comments
---
2017-06-13 12:00:03
via Instagram http://ift.tt/2swMPge

Posted in: instagramPortfolioTagged in: Read more...

0 comments
---
2017-06-12 11:49:57
via Instagram http://ift.tt/2rRzSNa

Posted in: instagramPortfolioTagged in: Read more...

0 comments
---
2017-06-11 21:33:16
via Instagram http://ift.tt/2sicYQv

Posted in: instagramPortfolioTagged in: Read more...

0 comments
---
2016-02-05 22:31:07
Sailor Moon (美少女戦士セーラームーン, Bishōjo Senshi Sērā Mūn), ook bekend als 'Sailor Moon: het meisje met de macht van de maannevel', Pretty Soldier Sailor Moon of Pretty Guardian Sailor Moon, is een Japanse mediafranchise, die bedacht is door Naoko Takeuchi. De franchise bestaat uit onder andere een mangaserie, animeserie, meerdere films, verscheidene musicals en een live-action-televisieserie. De serie wordt vaak gezien als de serie die het Maho shojo-genre nieuw leven heeft ingeblazen. (meer info).
Na de geslaagde superhelden-shoot met Caramel Coffee, vroeg ze me of ik een shoot wilde doen met haar nieuwste creatie. Het is haar favoriete personage uit de eerder genoemde serie Sailor Moon.
Meer voorbeelden van de shoot zijn te vinden in het Superwomen gedeelte van mijn portfolio.
Posted in: NieuwsShootTagged in: Read more...

0 comments
---
2015-12-24 21:33:59
Posted in: FeestdagenNieuws Read more...

0 comments
---
2015-10-11 21:57:57
Hier op de foto zat je nog veilig en warm in je mama's buik.
Maar sinds een halve week kunnen jouw papa en mama ook echt met je knuffelen.
Papa en mama gefeliciteerd en veel geluk samen!
Posted in: NieuwsShoot Read more...

0 comments
---
2015-07-20 22:15:10
"Even de belichting checken."
Zo aan het begin van het fotoshoot een uitspraak die ik nog al eens een keer doe. De lampen zijn net opgesteld en het model mag plaats gaan nemen voor de camera. Ondanks dat het eigenlijk min of meer testfoto's zijn, komt het voor dat de eerste klik meteen een echt plaatje is.
Zo ook tijdens de fotoshoot met Anoes van afgelopen donderdag. We wilden experimenteren met een "levitation" shoot.  Voordat ik haar echter zou laten balanceren op een krukje, mocht ze poseren met beide benen op de grond. Op deze manier kon ik de belichting rustig goed zetten. En zie hier het resultaat!
Posted in: ShootUpdate Read more...

0 comments
---
2015-07-07 22:17:30
Levitatie (Latijn: levare, opheffen) betekent verheffing, ofwel het laten zweven van een object. In de natuurkunde kan met sterke magnetische velden levitatie verkregen worden. De magnetische zweeftrein is daarvan een praktische toepassing. Ook is het mogelijk via sterke geluidsgolven akoestische levitatie te verwezenlijken.
Ook in de fotografie komt het begrip levitatie of levitation voor.  Het gaat hier om het fotograferen van personen of voorwerpen die lijken te zeven. Hieronder vind je enkele voorbeelden daarvan.
In deze vorm van fotografie wil ik me gaan verdiepen. En daarom zoek ik ter uitbreiding van mijn kennis en portfolio modellen, visagistes en stylistes die willen mee werken om mooi serie foto's te maken. Voel je je aangesproken? Stuur me dan een berichtje.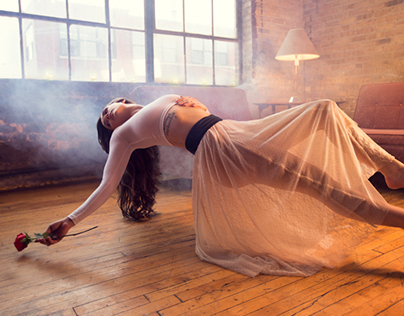 Posted in: NieuwsShootTagged in: Read more...

0 comments
---
2015-06-10 22:14:36
Het Holifeest, Holi-Phagwa of Phagwa, Phagawa, Phaguaa is een hindoeïstisch feest dat jaarlijks rond de maand maart gevierd wordt en in feite een combinatie is van een lentefeest, een feest van de overwinning van het goede op het kwade en een Nieuwjaarsfeest. Volgens de gregoriaanse kalender wordt het in het voorjaar gevierd en in de hindoekalender op de dag na de volle maan van de maand Phaalguna. Naar deze maand is dit feest ook genoemd, Phagua/Phagwa. Op de dag van de volle maan vindt Holikadahan plaats. Bastantpanchami, Shivaratri, Holikadahan en Holi zijn hindoe-gedenkdagen in het hindoeïstische jaargetijde Basant (meer info).
Wat heeft dit hindoeïstische feest te maken met fotografie? Er wordt gebruik gemaakt van gekleurd poeder, ook wel Holi poeder genoemd.  Hiermee kan je superkleurrijke foto's maken zoals hier onder te zien is, uit een shoot met Emmy. Meer voorbeelden zijn te vinden in het portret gedeelte van mijn portfolio.

Posted in: NieuwsShootTagged in: Read more...

0 comments
---
2015-03-20 16:11:25
Voor mijn serie "Superwomen" was ik op zoek naar stoere vrouwelijke superhelden.  Ik werd gewezen op de Facebookgroep "Cosplay". Er ging een hele nieuwe wereld voor me open met een hoop superhelden waar ik nog nooit van gehoord had.

Een van die superhelden was "Black Canary". Een stoere dame die heel haar leven getraind is tot bekwaam vechter. Een uitgebreidere (en completere) beschrijving van haar kun je vinden op Wikipedia.

Black Canary wordt gecosplayed door Jolene oftewel 14Vegeta.

Meer foto's van de shoot zijn te vinden in het Superwoman gedeelte van mijn portfolio.

Posted in: NieuwsShootTagged in: Read more...

0 comments
---
2015-03-06 13:24:15

Photoshop bestond afgelopen maand 25 jaar. De eerste versie werd gebruikt om plaatjes helder te maken op een zwart-wit scherm van Macintosh.

Tegenwoordig is het programma een zeer bruikbaar en onmisbaar  hulpmiddel voor de digitale fotograaf bij de nabewerking van foto's. Waar ligt de grens met betrekking tot nabewerking is voor iedereen verschillend. Het onderstaande filmpje laat in ieder geval zien dat alles niet altijd is wat het lijkt.

En dat er tijdens de nabewerking ook wel eens een klein foutje in kan sluipen is hier onder te zien 😉 .

Posted in: Nieuws Read more...

0 comments
---
2014-12-24 22:35:28

Iedereen fijne feestdagen en een goede 2015 toegewenst! Dat het maar een mooi en fotogeniek jaar mag worden!
Een van mijn goede voornemens is om de site goed te gaan bij houden. Dus komt er binnenkort al een grote update! Hou de site dus in de gaten.

Posted in: FeestdagenUpdateTagged in: Read more...

0 comments
---
2014-09-25 22:07:44
Het heeft even geduurd, omdat het weer in de vakantie niet mee werkte. Maar afgelopen vrijdag heb ik samen met Dominique dan toch een gave cowgirl shoot gedaan. Na een aantal shoots in de studio weer eens lekker een shoot in de buitenlucht. We hadden geluk dat er net mist kwam opzetten wat voor een mooie achtergrond zorgde.

Hierbij alvast een klein voorproefje. Het eindresultaat zal snel te zien zijn in mijn portfolio.

Posted in: ShootTagged in: Read more...

0 comments
---